Love History – Secrets – Wireless – Science – Broadcasting and Spies?
Learn why the first international broadcasting station for America's Voice is located on a hilltop outside of Cincinnati, OH.

Discover secrets embedded in sending truth around the world using a dictionary of just 1500 words.
Walk inside and experience the mammoth size for high power wireless signals and how shortwave radio works.
Learn why "Rocks" made Wireless work. (No rocks – No wireless).
Did we mention other surprises like Cincinnati Triple Time, Knocker-Uppers and making ice from heat?
Learn about critical skills from Women in Broadcasting.
Experience "This is America" broadcast describing our culture.
Don't forget to see the extensive Crosley Brothers Collection in addition to the Early Radio and TV collection.
Be sure to stop in the modernized Ham Shack for the West Chester Amateur Radio Association (WC8VOA). Witness how a wireless signal can travel around the world.
The National Voice of America Museum of Broadcasting is a 501 (c) (3) non profit organization governed by a volunteer Board of Directors.
Meetings of the Board are open to the public and take place monthly at the Museum, 8:15 AM every first Wednesday of the month.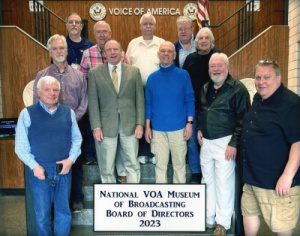 ADrick, Jay (President)
Gruber, joe (Chief Technology Officer)
Dominic, John (Jack) (Executive Director)
Ulrich, karl (Secretary/Treasurer)
Wunnenberg, Chris        (vice president) 
gentile, pat
Hite, Leland
Holt, Larry
Koffel, Tom
Martini, Mike (Media Heritage Representative)
Molter, Joe (WCARA Representative)
Monroe, Jeff
Rieser, Ken
Scott, David
Snyder, David
West, gary
White, Bob (Gray Collection representative)